Earthing Transformer Software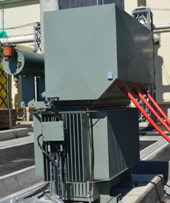 29/08/2016


In June 2016, we have offered our software which is for Earthing Transformers to the market and our first implementation is done.
This software is doing electrical calculation for Earthing Transformers and in use since 10 years with several upgrades. By the help of the software, electrical calculation done in a short time with user mistakes minimized and optimum results obtained.
Software doing electrical calculation up to 72.5 kV according to IEC standard. Software doing electrical calculation according to ZN, ZNyn, ZNzn and their derivatives connection types and guides user to choose optimum connection type.
Hereby software calculates a winding instruction which can be modified according to user demands.
Benefits;
Material saving,
Time saving,
Minimum risk because of quality and standard of results,
Quality proven designs for production and operations.
EXAMPLE INPUT DATA
EXAMPLE RESULT
EXAMPLE WINDING INSTRUCTION
<< Other news